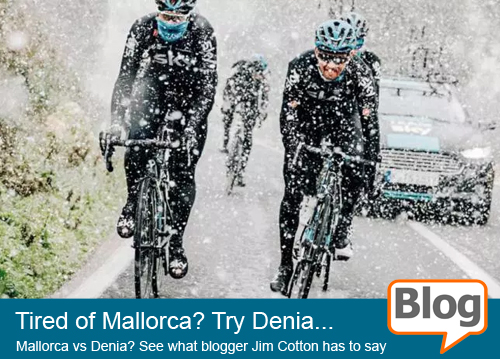 Cycle Breaks
Breaks can be arranged for ANY time of the year if you want to organise a group week with us, we can put together a flexible package which can include:
Airport transfers
Hotel accommodation in 3 star hotel (or better). Apartments and self-catering villas are also an option
Daily guided rides of 3-5 hours
Bike Hire
Hotel package prices will vary depending on the hotel and time of year. If you are on a tight budget, our Café Ciclista 2-bedroom modern apartments with direct access to the beach can be rented from as little as 450 euros per week. The apartments can comfortably sleep 4 people. We also have a penthouse apartment that can comfortably sleep 8 people.
Want to come out yourself or with some friends? How about a long weekend?
If you would like a cycling break with a few mates or to come out just yourself, then get in touch. Our guided cycling breaks are designed for all levels of ability. The area has a wide variety of routes that can mix and match to provide an itinerary to suit everyone and to ensure you get to enjoy the best riding the area has to offer. We will help you and advise you on the itinerary but it is your holiday and you can also ask for something different – be it a slow flat ride or a faster short ride to work on power and speed.
If you are doing a Gran Fondo in the summer, such as the Marmotte, the Etape or the Quebrantahuesos, long weekends out here are ideal preparation to build your endurance and to experience long climbs in the heat.
Just travelling yourself or with a friend? We have a a selection of 1, 2 and 3 bedroom apartments at our Café Ciclista base and close to the town centre and beach with breakfast and lunch options at the café.