Train in Spain can organize training weeks (or mini breaks) for teams, clubs, chain gangs and groups of friends at ANY time of the year – that's right, any time from January to December – with a pick-n-mix approach as to what add-on services are provided by us.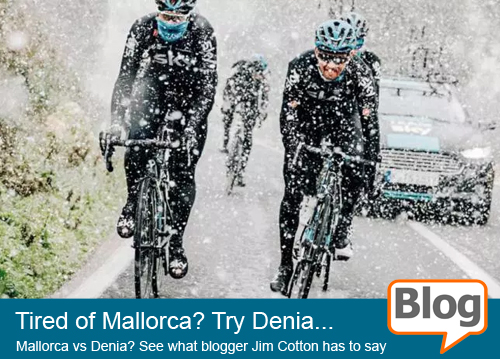 Services include:
– Airport transfers
– A variety of accommodation options from self-catering to 5 star hotels
– Carbon bike hire
– Guided rides
– Vehicle support
– Massage
In addition to these options, we will be running our regular training camps in March and April.
Our week-long camps are designed to help you get a solid block of riding done on great roads while it is most likely cold, dark and wet back at home.
The week will raise your fitness level by getting you out in the fresh air and sunshine for 3-5 hours a day. The tempo will be steady to increase aerobic fitness and to help burn any excess pounds you might be carrying. You will be riding in the Marina Alta mountains, as featured regularly in La Vuelta, and will have the chance to practice climbing, descending and group riding.
What can you expect?
As with all of our camps and breaks, you will have an unforgettable week of riding on the best training roads in Europe. The following pro teams choose the Marina Alta region as their destination of choice for winter training camps:- AG2R, Anpost Chain Reaction, Astana, BMC, CCC, Cofidis, Gazprom Rusvelo, Giant Alpecin, Katusha, LottoNL-Jumbo, Trek and Quickstep. Now and again we are lucky enough to have a pro join us for a ride.
From our Denia hotel base, the Ogisaka Gardens, you will have access to all of the climbing and descending you could wish for at this time of year. We will take you on routes that are peppered with short, sharp ramps that are just waiting to be attacked, as well as climbs of 20-25 kms that are perfect for building your climbing endurance. And rather than rain and traffic, you will be surrounded by mountains covered in almond and cherry trees and orange and lemon groves. What are you waiting for?
Is it for me?
Before coming on the camp you should have a reasonable level of cycling fitness gained during the previous months. This means being able to do back-to-back days of 4-hour rides and be able to climb a number of hills on any given day. The week will include 20 hours of riding so if you have just started riding come March then the step up is likely to be too much.
We normally have 2-3 groups on the road. The first group comprises of guests preparing to race and good club and sportive riders (gold standard). Rides will normally be completed at 30+ kph. A second group would normally average around 25-27 kph and the third group, 22-24 kph.
It is not a week for riders who are looking to tour the area at leisurely pace, stop regularly for photos and coffee breaks and so on.
If you are following a personalised coaching plan, please speak to your coach before booking. The week is about group riding although you will have plenty of opportunity to push yourself on the many climbs we will do.
Price per person (see accommodation below for details)
€595 (shared room)
€675 (single room)
30% Discount for non-riding guests